Water Efficiency Calculations
New homes are expected to get water efficiency to comply with part G of the Building Regulation and the Code for Sustainable Homes. They need calculations for the design stage and the 'as built' stage. According to part G of the Building Regulations, all new dwellings must have 125 litres of water usage per person ever day at most. The Code for Sustainable Homes sets targets for consumption based on WAT 1 levels. Levels one and two must consume 120 litres or less per day. Levels three and four are expected to consume 105 litres or less per day and levels five and six must consume 80 litres or less.
At Complete Sustainability Solutions, we offer efficiency calculations for all sectors within the UK. Our professional and experienced assessors can help you ensure that you meet the required limits. Apart from the calculations, we offer advice on what can be done to increase water efficiency. Our water efficiency calculations can help you predict water consumption and to comply with the regulations. Our calculations are fast and reliable.
How To Improve Water Efficiency In Buildings
Use dual-flush valves for water closets
Use alternative sources of water such as rainwater. You can have rainwater harvesting systems installed to be able to avoid its wastage. You can recycle water where possible. It can be used for irrigation and some indoor uses.
Use water-efficient appliances including washing machines, dishwashers and taps. If your equipment is old, replace it with newer ones that consume less water
Watch out for water leaks in a building. Water leaks can lead to wastage of a lot of water especially when they go undetected for long periods. It is advised to keep a continuous surveillance on your building to detect leaks as soon as they occur
Perform regular water audits to help you determine what you can do to increase water efficiency. Water audits make it possible to understand how water is being consumed in a building. You can use water metering and submetering to monitor your water consumption. They can also be used to detect leaks.
Train the staff and occupants of a building on the importance and ways to conserve water. They should be able to adopt water-efficient practices and to report leaks when they notice them.
Water efficiency calculations play an important role in dealing with water shortages in the UK.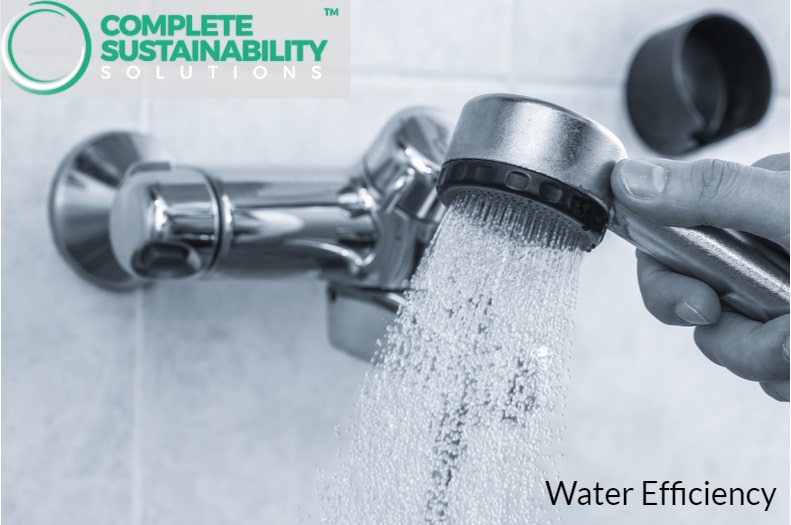 For any enquiries regarding our water efficiency calculations services, please call Complete Sustainability Solutions on 0161 706 0298 or email office@completesustainability.co.uk. Alternatively, fill in your details below and our team will be back in touch as soon as possible.