What Are SBEM Calculations?
Simplified building energy model, known as SBEM calculations, are useful when builders are calculating how a commercial property is compliant with all the part L building regulations. These calculations are normally completed using government-approved modelling software. They consider the building materials, ventilation and lighting services, cooling, type of heating and hot water. The use of renewable energy like solar, wind turbines and heating with ground-air sources also determines the final results. These SBEM calculations offer a clear picture of the proposed property's carbon emissions and energy performance. We offer the above services by collaborating with people who seek to construct new properties so that we can help them make the right calculations. Call Complete Sustainability on 0161 706 0298 or send an email to office@completesustainability.co.uk.
Why the SBEM Calculations Are Important
We let our customers understand that these SBEM calculations are needed for the purpose of part L2 building regulations compliance. Normally, a building control body will ask for them before the construction, extension and refurbishment of commercial buildings can be carried out. The calculations are used to produce a BRUKL report that shows the rating of the building's energy efficiency. If the report shows a rate that is less than the target emission rate, it means that the project has passed the regulations.
Will You Also Need an EPC?
Yes, as soon as the construction is over and all the SBEM specifications have been followed, an EPC get produced from the Simplified Building Energy Model calculations.
What We Provide
Our company provides SBEM assessment services for residential and commercial constructions. We aim to turn the complexities of energy compliance and efficiency to simplicities through flexible personal services.
Residential services include comprehensive sustainability and energy consultancy for the domestic new houses industry. We help them with practical assistance that ranges from buying land and design to the after construction development stage.
With commercial services, we offer clients support for non-domestic and stand-alone buildings regarding simplified building energy model calculations, SBEM assessments and risk analysis.
With many years experience, we have been able to provide sustainable building solutions all over the UK. We work closely with architects, project management firms and contractors who help in the construction process to ensure that all the necessary actions have been put in place in innovative ways.
We offer cost-efficient packages that are tailored to our clients' needs for all the services. Whether the project is simple or complex, building a new house or making renovations to an old one, we will offer you the same high level of support in a timely manner to help you meet your needs and minimise risks. Contact us on 0161 706 0298 or via email to office@completesustainability.co.uk.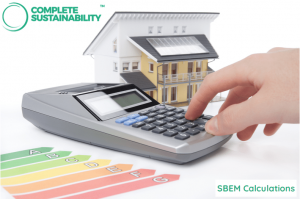 Why Choose Us?
We provide the services countrywide
We are accredited
Our services are tailored to suit the clients' needs and timelines
We offer the best customer service
To find out more about our SBEM Calculations services speak to our team on 0161 706 0298 or email any enquiries to office@completesustainability.co.uk. Alternatively, fill in your details below and we will get back in touch as soon as possible.