SAP Calculation and EPC
You will need a SAP calculation for a residential building at Design Stage and again at As-Built Stage once the construction is complete. Making changes mid-build can impact the final calculation so getting the specification on your development right first time is important.
Contact us now for SAP calculations services to help you make your business more sustainable. Call 0161 706 0298 or email office@completesustainability.co.uk with any enquiries.
Complete Sustainability Solutions is a SAP EPC registered company that uses SAP's Environmental Product Declaration software to calculate the SAP EPC of buildings and construction projects. We provide SAP EPC for new build, renovation or refurbishment projects.
What is a SAP?
A SAP calculation (Standard Assessment Procedure) is required for all new build residential buildings. It is a calculation that checks compliance with CO2 targets for your design.
The SAP assessment is created using design drawings and is checked against building regulations (Approved Document Part L in England and Wales, and Technical Handbook Section 6 in Scotland). To show compliance on new builds, the Dwelling Emission Rate (DER) must be equal to or lower than the Target Emission Rate (TER). The Design Fabric Energy Efficiency (DFEE) rating must also be equal to or less than the Target Fabric Energy Efficiency (TFEE) rating.
The SAP software is used to produce an Energy Performance Certificate (EPC) once the air testing has been carried out at the end of the project. The Energy Performance Certificate is required before you can sell or rent the completed building.
A SAP may also be required for existing residential buildings that are being extended or renovated.
Why use SAP EPC?
It is a requirement to have SAP EPC on all new builds, except those under Part L of the Building Regulations. SAP is also used for adaptions and work to existing buildings.
There are 4 main reasons why SAP EPC should be considered:
– SAP EPC is a statutory requirement for certain types of residential construction projects (e.g.: extensions, loft conversions). SAP EPC may also be required if you want to rent out your property or if it's being sold within 6 months. Without SAP certification your project will not pass building control / planning approval stage and will have no energy certifications;
– SAP software has been developed specifically for producing Energy Performance Certificates (EPCs), so using SAP software reduces th ee documentation and reporting burden on builders/ developers. SAP EPC can produce an SAP EPC certificate in just a few minutes, whereas it can take several hours using other software;
– SAP EPC produces SAP certification reports that are accepted by all energy companies (Scottish Power, NPower etc.) for SAP subsidy purposes. Other software solutions cannot certify SAP projects at present;
– SAP has been specifically built to meet the government's Green Deal requirements. By using SAP for your project you will also be putting yourself at the front of the queue when green deal funding becomes available soon.
Standard Assessment Procedure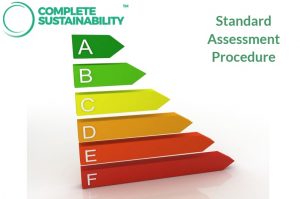 SAP calculations are a technique that the UK government employs to gauge how a building performs in terms of energy efficiency. It is the measure that the environment uses to tell if a construction project is in compliance with the Part L of the Building Regulations. The construction industry has been subject to the process since the '90s when it was developed to contribute towards the energy policies put forward by the Department of Environment. Complete Sustainability Solutions aims to provide your project with the expertise it needs to ensure adherence to SAP assessment. SAP has to be conducted in the design stage of the construction project so that you have to get professionals who can complement your vision. We have SAP assessors with many years of experience. Our professionals have worked in various types of projects and understand the requirement of each one. Whether you are setting up an apartment building or multiple properties, we have the right team to help with your SAP assessment.
SAP assessment is not about passing or failing a test. SAP analysis helps you to deliver sustainable buildings that are energy efficient, carbon neutral and can additionally help you boost the value of your property. SAP assessors allow you to quantify the impacts of your project and set aggressive goals for environmental performance and to improve the energy efficiency rating.
Complete Sustainability provide SAP calculations and will work with you to design a SAP assessment scheme that will be right for your project.
Our SAP assessors are trained and value engineering tools with SAP standards to set up the SAP as per the green building requirements. We provide consultancy services including energy assessment and analyse your dwelling performance. This includes new builds and construction projects of any size, whether you have one small project or 100 buildings.
We  provide SAP for new-build, SAP analysis services when undertaking refurbishments of existing buildings and SAP calculations for property acquisitions or disposals (also known as SAP EPC).
Our consultants will also analyse your SAP results to make sure that you're compliant with the requirements of the client brief.