BREEAM Assessment & Consultancy Services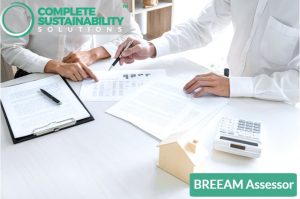 Complete Sustainability have a team of highly experienced BREEAM consultants who are ready to be your perfect partner on your building project for achieving a high BREEAM rating and help getting certified. Our sustainability consultants are here to help, offering attainable BREEAM assessment services for businesses with practical advice and support. Call our BREEAM consultants on 0161 706 0298 or email office@completesustainability.co.uk and we will be back in touch as soon as possible.
BREEAM is one of the world's leading environmental assessment and accreditation schemes, helping businesses manage their environmental impact during construction projects. Licensed BREEAM assessments show how well a building or development performs against sustainability benchmarks.
BREEAM Rating And Why It Is Important
BREEAM stands for Building Research Establishment Environmental Assessment Method. It is a code for sustainable building and was first established as Building Research Establishment (BRE) in 1990. It is a leading method for assessing, rating and certifying how sustainable buildings are. BREEAM encourages designers and building owners to consider the use of low impact and low carbon designs in any new construction project and to reduce the energy needs of buildings.
A method of evaluating and certifying a building's environmental performance, BREEAM is a form of sustainability assessment. BREEAM inspections demonstrate whether a structure has been planned to be as green and energy-efficient as possible.
BREEAM is a rating system that uses objective environmental data to assist decision-makers in assessing the long-term effects of a structure. BREEAM is an international standard for the environmental design, construction, operation and maintenance of buildings and therefore BREEAM assessors can be found throughout Europe.
The objective of BREEAM is to remove the uncertainty out of evaluating a structure's environmental performance and assist assessors in achieving their objectives. BREEAM Assessors will be able to help assessors meet this goal.
The Purpose Of A BREEAM Assessment
A BREEAM assessment makes it possible for building owners and designers to understand the importance of adopting sustainable building approaches. This way, they can reduce the environmental impact of building construction.
Businesses that are environmentally friendly tend to have better productivity, good employee morale, an attractive corporate image and low operational costs. BREEAM ratings make it possible for businesses to understand just how environmentally friendly they are and to put in measures to improve energy efficiency if necessary.A good BREEAM score increases the attractiveness of a commercial property to potential purchasers. Many business owners in the UK are beginning to recognise the value of BREEAM certification and engaging a BREEAM assessor.
BREEAM standards help to maintain good indoor air quality, sufficient lighting and thermal comfort. These factors not only help to maintain the comfort and morale of employees but also promote good health.
Landlords use BREEAM assessment ratings to lower their operating and restoration expenses. Buildings that have received a BREEAM rating are energy efficient since they utilise efficient lighting, equipment, heating, and water usage. Tenants will pay greater rents for buildings with a high BREEAM Assessor Rating.
BREEAM Assessment Process
The process begins with a pre-assessment, during which the assessor examines the building's plan and makes an initial judgement about its environmental effect.
The assessor collaborates with architects, engineers, and other construction project teams throughout the design process to assist in optimising the environmental performance of the structure and ensuring a sustainable design.
Finally, in the post-construction assessment, the assessor carries out a final evaluation of the building to ensure that it meets the required standards.
The BREEAM assessment process is a valuable tool for ensuring that new buildings are as environmentally friendly as possible.
How We Can Help
The world is changing and with it the way we need to think about construction and development. There is a lot of pressure on businesses to become more sustainable, but many don't know where to start. Even those who do often find the process overwhelming and complex.
Complete Sustainability Solutions offers a team of experienced BREEAM consultants who can help you achieve a high BREEAM rating for your building project. We provide practical advice and support throughout the assessment process, making it easy for all building types to get certified.
BREEAM Frequently Asked Questions
What is BREEAM?
BREEAM (BRE Environmental Assessment Method) is a system for rating and certifying buildings. Originally developed in the United Kingdom, the certification process has been introduced to many other countries including France, Norway, India, Denmark and Chile.
The BREEAM process is made up of three parts:
1. An initial site visit. Normally this would be led by an assessor on behalf of a developer or building owner's representative (usually their architect). The assessor visits the site with the following objectives.
2. Collection of background information – documents that will help better understand how this particular project might have affected or been affected by its surroundings.
3) Onsite inspections at key phases in the construction project designed.
What is the rating category for BREEAM?
Answer: The BREEAM assessment is a form of building sustainability assessment. It encompasses all aspects of the built environment from construction to architecture, from economics to value for society and human well-being.
In order to be assessed in each category, a project must complete a questionnaire that has been developed in consultation with key stakeholders. There are three grades that can be obtained: Pass Plus, Pass or Fail. "Pass" demonstrates good environmental performance and there must be at least one area where sustainability requires development before it gets a "Pass Plus". This is an endorsement by the assessor of quality, not just suitability for its use or suitability for an objective set out by the client.
How long does BREEAM certification last?
BREEAM certification is valid for a period of one year. A certificate must be renewed in order to continue listing buildings on the register. The process of obtaining a renewal can vary, but for most proposals an application fee, inspection fee and consultation hour are payable. It is possible that some businesses do not have to pay all of these fees depending on their size or type of organisation – but it's best to check with your certifying body before submitting your renewal application.