What Is An Air Leak Test?
An air leak test is the practice of the air tightness testing of a building. Air leakage can occur within the building through holes, gaps and cracks within the building. Air permeability of a building can have a significant impact on how much heat is kept inside and how much cold is let into a building which can have a significant impact on fuel bills for the building's owner. The air leakage testing will occur at structural completion, generally just before the building handover. If your building shows differential pressure upon inspection and air tightness testing, Complete Sustainability can identify the key air leakage paths and recommend the most suitable course of action needed.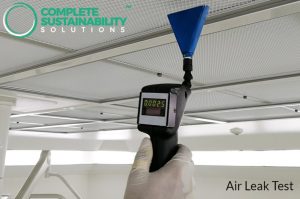 Air Leakage testing is a requirement of Building Regulations Part L1A/L2A
For buildings assessed under Part L2A (Commercial Units), any unit with a floor area of above 500m2 must have an air leak test carried out.
Buildings under 500m2 do not have to carry out an air leakage test. However, a default figure must be used within the SBEM calculations which will have a detrimental impact on the assessment.
For buildings assessed under Part L1A (Residential Units) you can opt to test every dwelling on the site, or a certain number of types (generally agreed with Building Control). However, if not all dwellings are testing, a 'confidence factor' of 2 will be applied to all plots meaning you will have to work harder on the plots that are tested.
At Complete Sustainability, our  air leak test engineers team cover sites for air tightness, carrying out air pressure tests throughout England and Wales, working closely with our technical team to ensure reports are produced and issued on the same day.
Air leak testing is a good way of telling whether a product, object, or system has been manufactured to comply with the leak-tight specifications. When a product is faulty, it leaks air, leading to severe problems that may cause the product to be inefficient or cause harm, thus making a leak test fundamental.
Leak tests are conducted on a range of equipment, right from medical devices to home appliances such as a sprinkler system to ensure they are safe for use by the public.
To help you understand this subject better, please find below our most frequently asked questions about the air leak test. Click on each question to expand for our responses.
Do I Need An Air Leakage Test?
You should always get an air leakage test on any new building, including your business. Holes in the envelope can result in cold drafts sweeping through rooms and making occupants uncomfortable, not to mention how wasting energy!
It's important for you to hire professionals who are well-versed in air leakage testing. Our team at Complete Sustainability are experts when it comes to performing research and finding solutions through air leakage testing. We offer comprehensive assessments of all workmanship installations related to the ventilation systems throughout your property or commercial building.
How do you check for a compressed air leak?
Air leaks typically produce high-frequency hissing sounds. Therefore, one of the ways to detect an air leak is by using an ultrasonic acoustic detector. The acoustic detector has amplifiers, directional microphones, and some installed audio filters to detect the leak in no time.
Another way of detecting a compressed air leak in your building or property is by observation. Inspect parts of your building where two different constructions materials meet.
What is the purpose of a leak test?
A leak test is done with the intentions of detecting and locating some leaks in a sealed or pressurised area. Leakages bring potential harm to consumers of the product, and also, the manufacturers stand to make losses if the leak is not detected and sealed on time.
Another purpose of a leak test is to help manufacturers find and eliminate product design flaws.
How much does an air leak cost?
If left unchecked, a small compressed air leak can potentially have a huge impact financially for the business, costing several thousands of pounds annually. That is too much money to be wasted which is why you should always be on the lookout for possible air leaks.
How much pressure is needed for a leak test?
In order to locate leaks, a low pressure (30-50 PSI) air test is appropriate.
Complete sustainability is a company that prides itself on being client-centred, and our range of services guarantee satisfaction.
Here are some benefits of choosing to work with us:
We will identify the critical area of leakage in the shortest time possible.
Recommend the best course of action to remedy the situation.
We have a highly skilled technical team that is efficient.
Reasonable prices
Other than an air leak test, we also offer other services that include:
Sound testing
Overheating analysis
BREEAM
Feasibility reports
Home quality mark
Vent testing
Water efficiency calculations
Minimum energy efficiency standard (MEES)
SAP EPC
SBEM EPV